Board Of Directors Slate 2021-2022 (Permanent)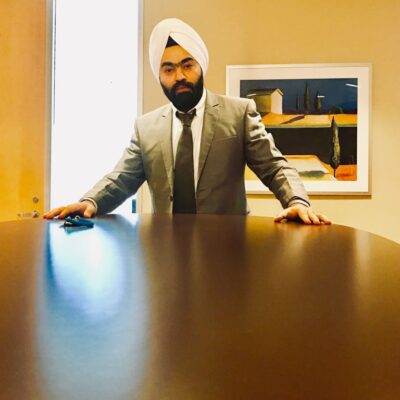 Guru Bakshish Singh Sehgal
Chief Executive Officer
Guru Bakshish Singh Sehgal is the Director of Marketing and International Relations at Nutritionwize Consulting Services. As the Director of Marketing and International Relations, he has a wide range of experience in business and finance and has been able to expand the company's portfolio to the international market. Guru Sehgal is a very successful entrepreneur with a highly integrated organizational vision. He demonstrates a unique blend of leadership qualities and extraordinary Business acumen.
Guru Sehgal holds a Bachelor's Degree from York University and has held numerous Senior Management positions in the Health, Hospitality as well as the Entertainment sector, both in Canada and India. He owns and manages several businesses in Asia and has worked with a number of Hospital Management Boards internationally seeking ways to deliver better health care to the Indian Population. In the entertainment sector, Guru Sehgal was the winner of Mr. Singh International in 2007. He has also facilitated many Bollywood performances in Canada and as well participated in many Fashion Shows.
He is passionate about helping others achieve their goals and maintain a healthy lifestyle. He has over 10 years of experience in personal training and has worked with to help many to achieve and maintain their fitness goals. He also has deep compassion for helping others in need and uses every opportunity to make a difference in the lives of many; he currently serves as Vice President of New Hope Foundation, Mumbai, India, a charitable organization with a vision to help the poverty-stricken Indian population.
Guru Sehgal is fluent in English, Punjabi, Hindi, Urdu, and Marathi and partially in Gujarati and Bengali.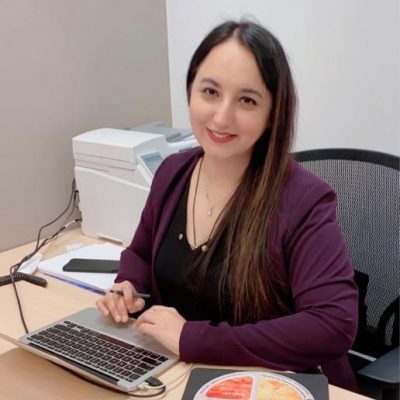 Manmeet Kaur Behl, RD, NM (Canada)
President
Manmeet is a Registered Dietitian and a Director at Nutritionwize Consulting Services. She is the Director of Clinical Operations, mentors dietetic students as well as the Lead for the Nutritionwize Academy. She has an array of experience in nutrition counseling, clinical nutrition, community nutrition, and long-term care services, one-on-one and group counseling as well as developing nutritional resources and programs.
As the Clinical Lead for Nutritionwize and the Lead for Nutritionwize Academy, Manmeet developed (Nutritionwize Education Programs) NEP sessions, an evidenced and researched based, standardized, practical nutrition education program used to counsel patients and clients. These education sessions span various topics and address various clinical conditions. Individuals undergoing these sessions have recorded favorable outcomes to blood sugar control and in their overall health.
Manmeet is passionate about building healthy and happier communities using her knowledge to help people make simple and sustainable steps towards a healthier future, especially in her cultural community. Manmeet has worked with Eat Right Ontario to develop various resources in South Asian languages, appeared in several television shows to educate the community about healthy eating, and continues to volunteer as one of the Chief Dietitians with Stop Diabetes Foundation. 
Another area of specialty for Manmeet is Cancer Nutrition. Manmeet also works closely with cancer patients, providing cooking demonstrations and group nutritional education in disease management.
She holds registration for CSNM (Canadian Society of Nutrition Management) and also a Registered Food Safety trainer Registered BASICS.fst® and ADVANCED.fst® Trainer with Traincan Inc in Canada as well as in India.
Board Of Directors Slate 2021-2022 (One-Year Volunteer Position Elected Every Year)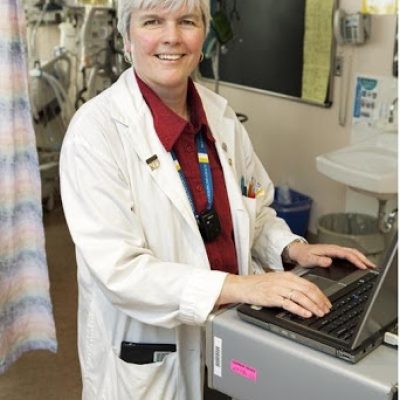 Michele McCall RD, MSc (Canada)
IEDNC Honorary Member
Michele's career has spanned over 30 years of critical care nutrition practice at St. Michael's Hospital in Toronto, Canada, serving medical, surgical, trauma and cardiovascular ICU patients. She taught various clinical nutrition and research courses for 19 years at Ryerson University, Toronto in the School of Food and Nutrition. After many years of instructing dietetic interns, Michele developed the first mentoring program for interns in Canada. She has won several teaching awards including the St. Michael's Hospital Education Excellence Award after her three years as Dietetic Internship Coordinator. Practice-based research has also always been a passion, and Michele has authored or co-authored many studies and has been a member of multiple national and international nutrition support guideline committees.
Email: info@mccalldietetics.com
Rosarie Tubeza San Luis, RD (Canada)
IEDNC Country Representative – Philippines
Rosarie T. San Luis completed Bachelor of Science in Foods and Nutrition at Central Philippine University, Philippines. She graduated with distinction in Master of Professional Science in Foods and Nutrition Planning (MPS-FNP) at UP Los Banos, Philippines and as a Netherlands University Fellowship for International Courses (NUFFIC) fellow. Finished PhD at International Academy of Management and Economics (IAME), Manila, Philippines with Outstanding dissertation. Rosa is Registered Dietitian & Nutritionist in the Philippines, and has worked as a Public Health Nutritionist, Provincial Nutrition Program Coordinator and Hospital Dietary Service Manager. Having gone through the process of becoming an RD in Canada, her experiences are rich resources to help those who wants to become a dietitian in Canada.
Email: rosa_pho@yahoo.com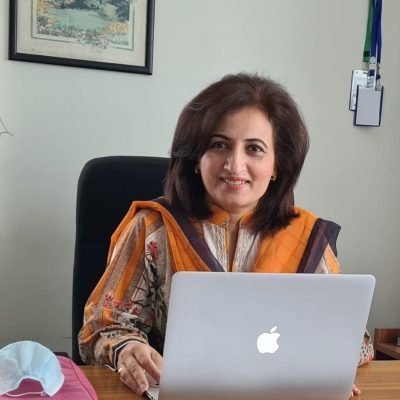 Dr. Sajida Naseem (Pakistan)
IEDNC Country Representative – Pakistan
Dr. Sajida Naseem is a Family physician, Nutritionist and Public Health specialist in Islamabad, Pakistan. Being a medical educationist, she specializes in the teaching of nutrition and its counselling. She is a part-time faculty of Masters in Community Health & Nutrition in the Department of Home and Health Sciences at Allama Iqbal Open University. Being a board member and country representative of Pakistan for IEDNC, she has the ambition to educate, enhance and encourage the dietitians in collaboration with the team of experts in IEDNC in this professional field. Being actively engaged in research, Sajida strives to generate evidence-based data on the Asian population which can be utilized for the practice of evidence-based nutrition. Passionate to spread awareness among the general population about adopting healthy lifestyles to have a "healthy society, healthy nation", Sajida actively engages herself in community services, thus benefitting mankind. Sajida is fluent in English and Urdu.
Email: sajidanaseemm@gmail.com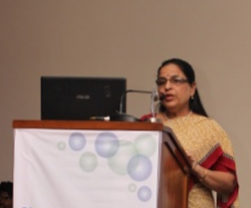 Sushila Sharangdhar
IEDNC Country Representative – India
Sushila Sharangdhar is a Dietitian and Certified Diabetes Educator in India, as well as a lactation consultant, yoga therapist and Certified Gene Practitioner (Canada). She completed her Bachelor of Home Science in Foods and Nutrition, and afterwards specialized her post-graduate education in Nutrition and Dietetics, as well as Hospital Administration. Sushila has various certifications and diplomas in a vast range of aspects relating to health & wellness. She has over 40 years of expertise working in several hospitals, clinical, and academic settings, along with being a faculty for various conferences at a national level. Sushila's expansive experience and knowledge in dietetics can aid IEDNC in empowering fellow dietitians and dietetic students around the world.
Email: dietitian25@gmail.com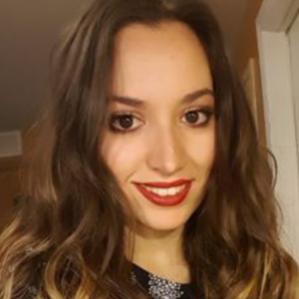 Simone Nascimento (RD)
IEDNC Country Representative – South Africa
Simone Nascimento completed her honours degree in Nutrition from North-West University in South Africa and completed internships in public health at a regional and provincial level. In Canada, she did her internship in Hamilton Health Sciences and provided Diabetes Education. At Nutritionwize Consulting Services, she is involved with research projects, corporate education, and nutritional counselling. Simone is passionate about the good quality of life and the role of optimal nutrition. She believes in helping her patients reach their nutrition goals in a realistic and sustainable way that is best suited to their needs. Growing up in South Africa has well equipped her to adapt to multicultural backgrounds and she is familiar with both African and Portuguese foods. Simone is fluent in English, Portuguese and Afrikaans.
Email: swelvering@nutritionwize.com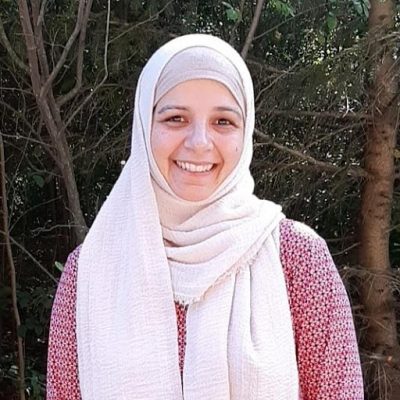 Sababa Khan (RD)
IEDNC Dietetic Representative – Canada
Sababa Khan is a Registered Dietitian with a Master's degree in Community Health and Nutrition. After immigrating to Canada in 2013, she pursued her career in Dietetics and became a Registered Dietitian in Ontario in 201. Since then, Sababa has been working with various family health teams in GTA, providing nutrition education to individuals so that they can manage their chronic illnesses in a better, more effective and doable way. Her special interest lies in developing lifestyle changes in her client's lives so that the results are long lasting. She is also a Certified Craving Change facilitator. She was an internationally educated dietitian and faced many challenges while becoming RD and would like to help other internationally educated dietitians.
Email: skhan@nutritionwize.com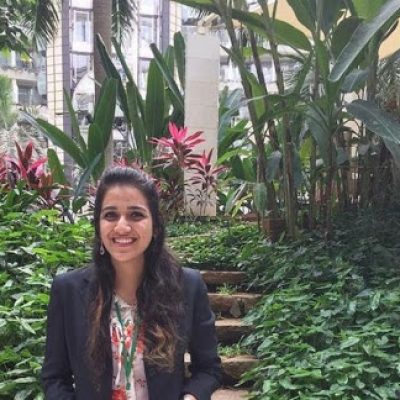 Harsheen Kaur Chaudhary
IEDNC Dietetic Representative – Outside Canada
Harsheen Kaur Chaudhary is a consulting Nutritionist and Dietitian and the founder of Nutrithy, which inter alia provides healthy snack alternatives to help achieve clients with their health goals. Having completed her Masters in Clinical Nutrition and Dietetics from SNDT University, Mumbai. Harsheen has completed the Diabetes Educator program and is a Certified Genetic Practitioner (Canada). She is also associated with the Nutrition Society of India and regularly assists in developing their content and social media strategy thereon.
Email: chaudharyharsheen@gmail.com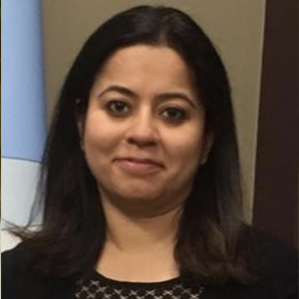 Sakshi Kapoor (RD)
Corporate Dietitian
Sakshi Kapoor is a Registered Dietitian with over 6 years of international experience as a Dietitian in multi-speciality hospitals, pharmaceutical companies and gourmet health food retail chains. She has successfully completed the certificate for Internationally Educated Professional in Nutrition from Ryerson University, Toronto. Sakshi is a member of Dietitians of Canada and Canadian Society for Nutrition Managers. She enjoys educating clients/patients regarding their therapeutic nutrition requirements and guiding them towards maintaining a healthy lifestyle. She believes that being a dietitian is not just a career choice but gives her responsibility for using her knowledge to promote healthy eating with proper nutrition. Sakshi is fluent in Hindi, English and partially in Punjabi.
Email: sakshikapoors@yahoo.com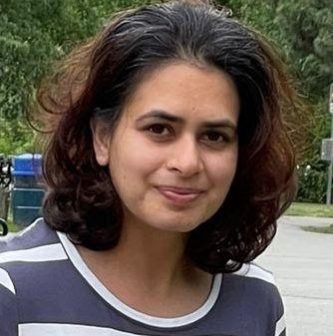 Dr. Sukhwinder Kaur Bains
Clinical Research Associate
Dr. Sukhwinder Bains has extensive experience in anaesthesia, genetics and critical care. She completed her Masters from India in 2013 and has worked with multiple hospitals and in government settings for 6+ years. She came to Canada in 2019, completed Certified Gene Practitioners Course in Canada and contributed by researching and teaching students. She contributes to IE Dietitians Network of Canada by researching on different topics, gathering relevant evidence-based information, critically appraising articles and writing in a clear and concise form.
Email: drsukhwinderbains@gmail.com
Others:
Chief Editor – Prabhnoor Grover
Registration Co-ordinator: Satbir Kaur, NM, Nutritionist, Canada
Course Instructors:
Manmeet Kaur Behl, RD (Canada)
Dr. Rahul Khushwah, Ph.D. (Canada)
Sakshi Kapoor, RD( Canada)
Monika Sharma, RD (Canada)
Supreeta Raj, RD (Canada)
If you are looking for information about Dietetics anywhere in Canada, kindly send us an email at info@iednc.ca. IE Dietitians Network of Canada's mission is to educate, enhance, encourage, and embrace, while our vision is to provide mentorship & support you to achieve a successful dietetic career in Canada. IEDNC's Board of Directors can aid you in this process, reach out to us today to find out more!